• Brough Market • Brough Market London • illustrated Map • Map Illustration • Monmouth Coffee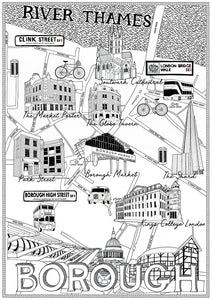 Borough, a vibrant district nestled within the London Borough of Southwark, exudes a unique character that has captivated both locals and visitors for generations. Situated just south of the majestic River Thames and to the east of Lambeth, this area boasts a rich tapestry of history and culture that beckons exploration.
---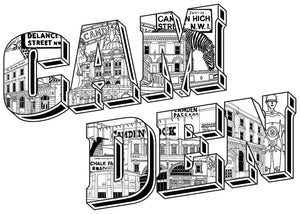 Explore the soul of Camden through our captivating typographic postcard. Immerse yourself in the iconic imagery of Koko Camden, Roundhouse, Hawley Arms, Dublin Castle Tavern, and Jazz Cafe—all elegantly woven into the letters that spell 'Camden.' A black and white ode to the heart of this vibrant neighborhood awaits, capturing its essence with every stroke
---
• Brough Market • Brough Market London • Coffee Shop Sketch • Monmouth Coffee • Monmouth Coffee Brough Market • Monmouth Coffee Brough Market London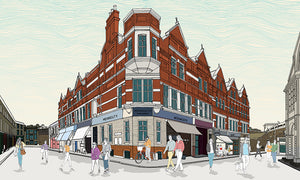 As an illustrator, my quest often leads me to capture the essence of places that hold a special place in my heart, breathing life into the scenes that I find truly enchanting. In the heart of Borough Market, the hand-drawn and digital illustrations of Monmouth Coffee and the lively figures that inhabit these scenes represent a journey of passion and creativity close to my soul. Monmouth Coffee, with its rustic charm and the alluring aroma of freshly roasted beans, is a place of pure enchantment. My illustrations were driven by the desire to do justice to the cosy haven it...
---
• Paris • Paris Architecture • Paris Map • Paris Typographic
Capture the essence of Paris with iconic architecture and typography! See the vintage postcard style views of the Eiffel Tower, Louvre, Arc De Triomphe, Notre Dame plus the Metro Sign and Citreon Car.
---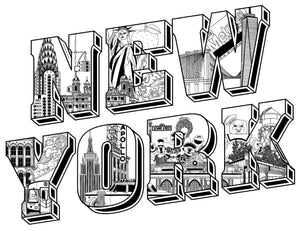 Explore the iconic architecture of New York City with this vintage postcard style, including the Empire State Building, Crysler Building, One World Trade Building, Union Station and Statue of Liberty.